Tech Control Enterprise Co., Ltd.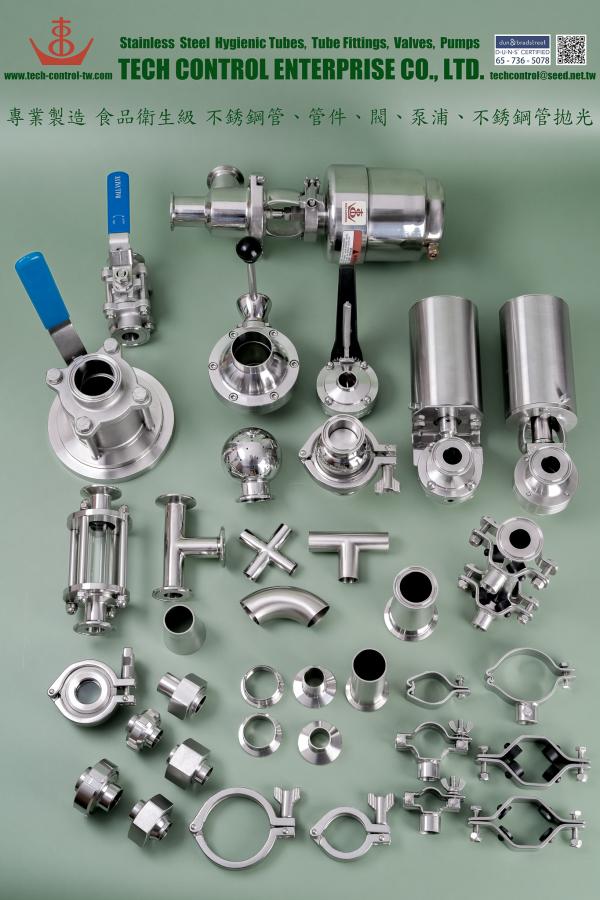 Welcome to Tech Control Enterprise!

Our company was established in 1988, now is recognized as a leading manufacturer of the sanitary stainless steel tubes, tube fittings and components for the dairy, food, beverage, pharmaceutical, biotech, biopharm,cosmetic and many other industries. Being a part of nature, we commit ourselves making sanitary and safety products to bring everyone a better life!

Tech Control is well equipped with the most advanced facilities, and is staffed by experienced and dedicated craftsmen. We are happy and proud that our success is not based on only total manufacturing know-how and daily innovation, but also the strictest inspection in every production phase. With such successful expereience, we bring our products with the following befinits to share with customers: more safety, lower cost, higher quality, long service life and better effiency.

Tech Control, is the first to obtain the US 3A Sanitary Standards Certificates in Taiwan, and an ISO-9001 approved company that you can trust.

Product ranges :
SANITARY STAINLESS STEEL TUBE FITTINGS ( 3A, IDF, DIN, SMS, RJT, BPE ) - Ferrule, Tube Clamp, Tube Support & Hanger, Tube Union, Flange, Elbow, Tee, Cross, Reducer, Gasket & O-ring, End Cap, Sight Glass ...etc.
SANITARY VALVES - Butterfly Valve, Plug Valve, Check Valve, Ball Valve, Control Valve, Auto Valve( Compression Valve/Air-Actuated Valve ), Sampling Valve ...etc.
SANITARY STAINLESS STEEL TUBES and SANITARY PUMPS...etc.
products are applicable to the Clean-In-Place( CIP ) process.

Other customized or specified stainless steel products are available upon request, OEM/ODM manufacture are very welcome!
Profile
| | |
| --- | --- |
| Established in: | 1988 |
| Annual Sales: | NTD 180,000,000 |
| Capital: | NTD 6,000,000 |
| Business Type: | OEM Manufacturer ODM Manufacturer Exporter/Agent |
| Markets: | World Wide |
| Main Products: | SANITARY TUBE FITTING, SANITARY PIPE FITTING, SANITARY VALVE FITTING, SANITARY HOSE FITTING, SANITARY BPE FITTING, SANITARY TUBE, SANITARY FITTING, SANITARY VALVE, SANITARY PUMP, BUTT WELD FITTING, BEVEL SEAT FITTING, CLAMP FITTING, DAIRY FITTING, BEVERAGE FITTING, BIOPHARM FITTING, HYDRAULIC FITTING, 3A, IDF, DIN, SMS, RJT, CIP, BPE, Ferrule, Clamp, Tube Support, Tube Hanger, Tube Holder, Union, Flange, Bend, Elbow, Tee, Cross, Reducer, Gasket, Seal, O-ring, End Cap, Sight Glass , Sanitary Air-actuated Valve, Sanitary Compression Valve, Sanitary Butterfly Valve, Sanitary Plug Valve, Sanitary Check Valve, Sanitary Ball Valve, Sanitary Sampling Valve, Sanitary Divert Valve, Sanitary Control Valve, TRI-CLAMP FITTING, TRI-WELD FITTING |
| No. of Employee: | 60 |
| Location: | Taiwan |
| Factory: | Taipei, Taiwan |
| ISO and/or Other Safety/Quality Approvals: | 3-A sanitary standards, ISO-9001 certification |
Contact Detail
| | |
| --- | --- |
| CEO: | Mr. Chung, Chin-Ying |
| Contact: | Manager Ms. Vickey Chung or Mr. Vincent Chen |
| Address: | No.24, Tsang Hou St., Pan-Chiao City, Taipei 220, Taiwan (Headquarters) |
| TEL: | 886-2-29685577 / 29675553 |
| FAX: | 886-2-29675545 / 29689740 |
| Email: | techcontrol@seed.net.tw |
| URL: | http://www.tech-control-tw.com |
| ZIP: | 220 |