Product
SANITARY HYGIENIC PNEUMATIC CONTROL VALVE - MIXPROOF VALVE, 361 DOUBLE SEAT VALVE, DIVERT VALVE, SHUT-OFF VALVE with Tri Clamp Ferrule/Weld/3A/IDF/RJT/BSM/DIN/SMS connections/ends, Inox/Stainless Steel - Pneumatic ... 食品/飲料/啤酒/釀造/製酒/牛乳/生技/製藥/化妝品/化工/淨水處理/個人照護/車輛/電子/半導體/食品飲料機械整廠規劃整廠設備衛生配管工程用管件 食品衛生級 氣動控制閥, 防混閥, 雙座閥, 分向閥, 截流閥 Tri Clamp Ferrule/Weld/3A/IDF/RJT/BSM/DIN/SMS接口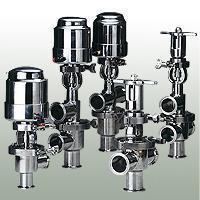 Inox/Stainless Steel Sanitary HYGIENIC PNEUMATIC CONTROL VALVE : Hygienic MIXPROOF Valve , Hygienic 361 DOUBLE SEAT Valve , hygienic DIVERT Valve , Hygienic SHUT-OFF Valve with Tri clamp Ferrule/Weld/3A/IDF/RJT/BSM/DIN/SMS connections/ends - manufactured by TECH CONTROL ENTERPRISE CO., LTD. TAIWAN
Product ID: 13
Tech Control's Pneumatic Control Mixproof Valve offers the benefits including less maintenance cost, more production and safty operation.
Precision design and material controlled feature high sanitary quality, strong corrosion resistant, long service life, fast and easy to assemble / disassemble.
Ideal used for dairy, cream, food, beverage, juice, brewing and pharmaceutical industries.
* Products having large solids are not recommended.
* Catalogs and drawings are available upon request.
Specifications:
Size: 1.5"~ 3"
Material:

Bodies are SS316.
Clamps are SS304.

Finish: 3A sanitary standard
Connection: Clamp End type is standard, Weld, Bevel Seat, IDF Male end and other connections are available
Type: Handle or Air-Actuated are available

Micro Switch assembles are available for the Air-Actuated style to indicate the valve stem seat or disc position.

Pressure:

150 PSI maximum.
We test it for security up to 200 PSI.
Features:
Advanced & Versatile Design

Low manpower
High sanitary
Safty operation
Easy to Assemble/Disassemble
Less maintenance
Valve's port position permitted 360 degree rotation

Material Controlled & Machined Precisely.

High corrosion resistant
Long service life

Safty Stock System.

Complete tested
Well packaged
Fast delivered

Repair service.
Order Information:
Minimum Order: 1 pcs
Buyer's Label Offered
FOB: TAIWAN
Contact Detail
| | |
| --- | --- |
| CEO: | Mr. Chung, Chin-Ying |
| Contact: | Manager Ms. Vickey Chung or Assistant Mr. Vincent Chen |
| Address: | No.24, Tsang Hou St., BanQiao Dist., New Taipei City 22055, TAIWAN (Headquarters) |
| TEL: | 886-2-29685577 / 29675553 |
| FAX: | 886-2-29675545 / 29689740 |
| Email: | techcontrol@seed.net.tw |
| URL: | http://www.tech-control-tw.com |
| ZIP: | 22055 |