Product
RJT/BSM/CIP FLAT FACE Union Fittings, INOX Stainless Steel Hygienic Union Fittings RJT/BSM/CIP FLAT FACE - 食品/飲料/啤酒/釀造/製酒/牛乳/生技/製藥/化妝品/化工/淨水處理/個人照護/車輛/電子/半導體/食品飲料機械整廠規劃整廠設備衛生配管工程用管件 RJT/BSM/CIP FLAT FACE 食品衛生級由任(接頭、牙口、螺母、墊片)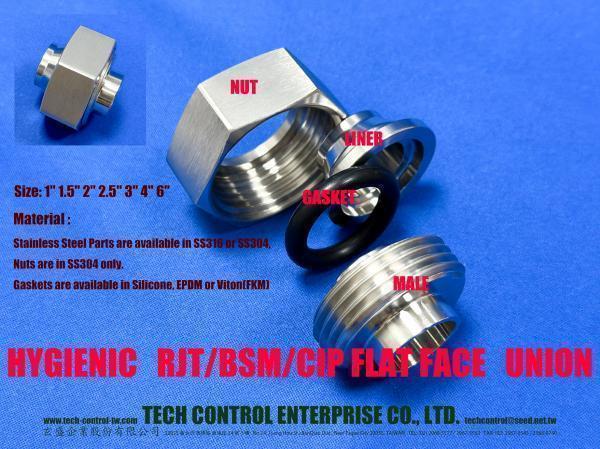 RJT/BSM/CIP FLAT FACE SANITARY HYGIENIC UNION FITTINGS, Inox/Stainless Steel, including Liner, Male, Gasket and Nut - manufactured by TECH CONTROL ENTERPRISE CO., LTD. TAIWAN
Product ID: 06
RJT/BSM UNION (RJT: Ring Joint Type, BSM: British Standard Milk) was initially designed to meet the requirements of dairy processing and hygiene standards. It consists of a plain male liner, a female liner with an external thread, a gasket, and an internally threaded nut. It is now widely used in industries such as dairy, beverages, and pharmaceuticals. It is commonly used in milk, beverage, winemaking, and other food-related processing processes in the UK, Australia, and New Zealand.
RJT/BSM Union features the following characteristics:
Food-grade hygiene design: The internal aperture of the fittings is smooth, reducing the accumulation of bacteria, dirt, and other contaminants, meeting food safety and hygiene requirements.
Excellent sealing performance: Reliable sealing is achieved through the combination of gaskets, threaded connections, and nuts, preventing leakage and contamination.
Easy to disassemble: Convenient for cleaning, maintenance, and replacement work.
Suitable for CIP (Clean In Place) systems for online cleaning.
All food-grade sanitary hygienic tube fittings manufactured by TECH CONTROL ENTERPRISE CO., LTD. TAIWAN undergo strict quality control using the Olympus Innov-X Delta XRF Metal Analyzer, ensuring the materials meet the sanitary hygienic standards. The surface treatment achieves a roughness (Ra) value of ≤ 0.8μm, complying with food-grade hygiene standards. Our fittings are precision machined, easy to weld, and have burrs, sharp edges removed and corners polished. They are assembled and maintained without causing harm to the hands. Each fitting undergoes 100% inspection before shipping.
(DIMENSION DRAWINGS are provided below. Click to enlarge.)

* Catalogs and drawings are available upon request.
RJT14K

CIP14K Weld Liner

FLAT FACE CIP

CIP15

Weld Male

FLAT FACE CIP

RJT15R

Expanding Male

Threaded

RJT13R

Round Nut

RJT13AH

Blank Hex Nut

RJT14S

Weld Liner Short

RJT16A

BSM Blank Cap

RJT40A

RJT Gasket

RJT40C

NZ Type Gasket

(Stepped Seal)
Specifications:
Size: 1" 1.5" 2" 2.5" 3" 4" 6"

RJT/BSM/CIP FLAT FACE (Unit : mm)

1" (OD=25.8, t=1.8)

1.5" (OD=38.5, t=1.8)

2" (OD=51.2, t=1.8)

2.5" (OD=63.9, t=1.8)

3" (OD=76.6, t=1.8)

4" (OD=102.0, t=2.2)

6" (OD=152.8, t=2.2)

Check the dimension drawings for detail...
Material: SS304, SS316, SS316L (Nut : SS304 only)

*** RJT/BSM/CIP FLAT FACE UNION set

RJT14K + RJT15 + RJT40A (RJT Gasket) + BS13H or RJT13R

CIP14K + CIP15 + RJT40B (Flat Face CIP Gasket) + BS13H or RJT13R

RJT14Z + RJT15 + RJT40C (NZ Type Stepped Seal) + BS13H or RJT13R

*** ONLY Item 2 & Item 3 for CIP (Clean-In-Place)
Features:
Material controlled & machined precisely

Easy to weld and assemble

Burrs, sharp edges removed and corners polished. They are assembled and maintained without causing harm to the hands.

High corrosion resistant and long service life

100% inspection before shipping
Order Information:
Minimum Order: 50 pcs
Buyer's Label Offered
FOB: TAIWAN
Contact Detail
| | |
| --- | --- |
| CEO: | Mr. Chung, Chin-Ying |
| Contact: | Manager Ms. Vickey Chung or Assistant Mr. Vincent Chen |
| Address: | No.24, Tsang Hou St., BanQiao Dist., New Taipei City 22055, TAIWAN (Headquarters) |
| TEL: | 886-2-29685577 / 29675553 |
| FAX: | 886-2-29675545 / 29689740 |
| Email: | techcontrol@seed.net.tw |
| URL: | http://www.tech-control-tw.com |
| ZIP: | 22055 |