Product
DIN Union ( DIN 11851 ) Fittings, INOX Stainless Steel Hygienic Union Fittings DIN 11851 - 食品/飲料/啤酒/釀造/製酒/牛乳/生技/製藥/化妝品/化工/淨水處理/個人照護/車輛/電子/半導體/食品飲料機械整廠規劃整廠設備廠務衛生配管工程用管件 DIN 11851 食品衛生級由任(接頭、牙口、螺母、墊片)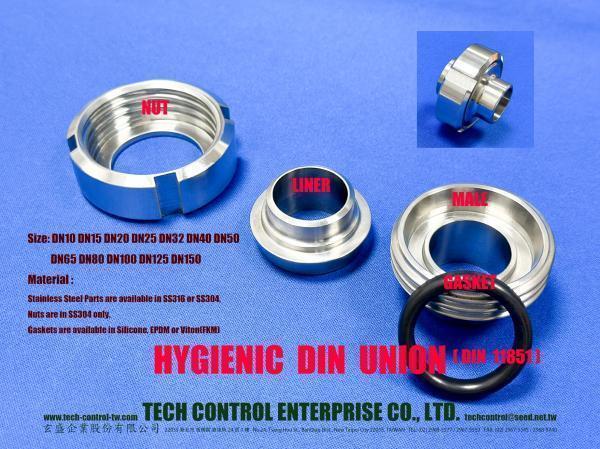 DIN 11851 SANITARY HYGIENIC UNION, Inox/Stainless Steel, including Liner, Male, Gasket and Nut - manufactured by TECH CONTROL ENTERPRISE CO., LTD. TAIWAN
Product ID: 07
You will never reject its superior weldability, highest degree of corrosion resistance, and sanitation as all the professional processors' identical choice.
* Catalogs and drawings are available upon request.
Specifications:
Size: DN10 DN15 DN20 DN25 DN32 DN40 DN50 DN65 DN80 DN100 DN125 DN150

DIN 11851 (Unit : mm)

DN10 (OD=15.0, t=2.5)

DN15 (OD=21.0, t=2.5)

DN20 (OD=25.0, t=2.5)

DN25 (OD=31.0, t=2.5)

DN32 (OD=37.0, t=2.5)

DN40 (OD=43.0, t=2.5)

DN50 (OD=55.0, t=2.5)

DN65 (OD=72.0, t=3.0)

DN80 (OD=87.0, t=3.0)

DN100 (OD=106.0, t=3.0)

DN125 (OD=132.0, t=3.5)

DN150 (OD=157.0, t=3.5)

Check the dimension drawings for detail...
Material: SS304, SS316, SS316L (Nut : SS304 only)
Features:
Material Controlled & Machined Precisely.

Easily welded
Quickly fit up
High corrosion resistant
Long service life

Safety Stock System.

Well packaged
Fast delivered
Order Information:
Minimum Order: 50 pcs
Buyer's Label Offered
FOB: TAIWAN
Contact Detail
| | |
| --- | --- |
| CEO: | Mr. Chung, Chin-Ying |
| Contact: | Manager Ms. Vickey Chung or Assistant Mr. Vincent Chen |
| Address: | No.24, Tsang Hou St., BanQiao Dist., New Taipei City 22055, TAIWAN (Headquarters) |
| TEL: | 886-2-29685577 / 29675553 |
| FAX: | 886-2-29675545 / 29689740 |
| Email: | techcontrol@seed.net.tw |
| URL: | http://www.tech-control-tw.com |
| ZIP: | 22055 |