Product
SANITARY HYGIENIC BUTTERFLY VALVE with Tri Clamp Ferrule/Weld/3A/IDF/RJT/BSM/DIN/SMS connections/ends, Inox/Stainless Steel - Manual, Pneumatic ... 食品/飲料/啤酒/釀造/製酒/牛乳/生技/製藥/化妝品/化工/淨水處理/個人照護/車輛/電子/半導體/食品飲料機械整廠規劃整廠設備廠務衛生配管工程用管件 食品衛生級 蝶閥 手動, 氣動, Tri Clamp Ferrule/Weld/3A/IDF/RJT/BSM/DIN/SMS接口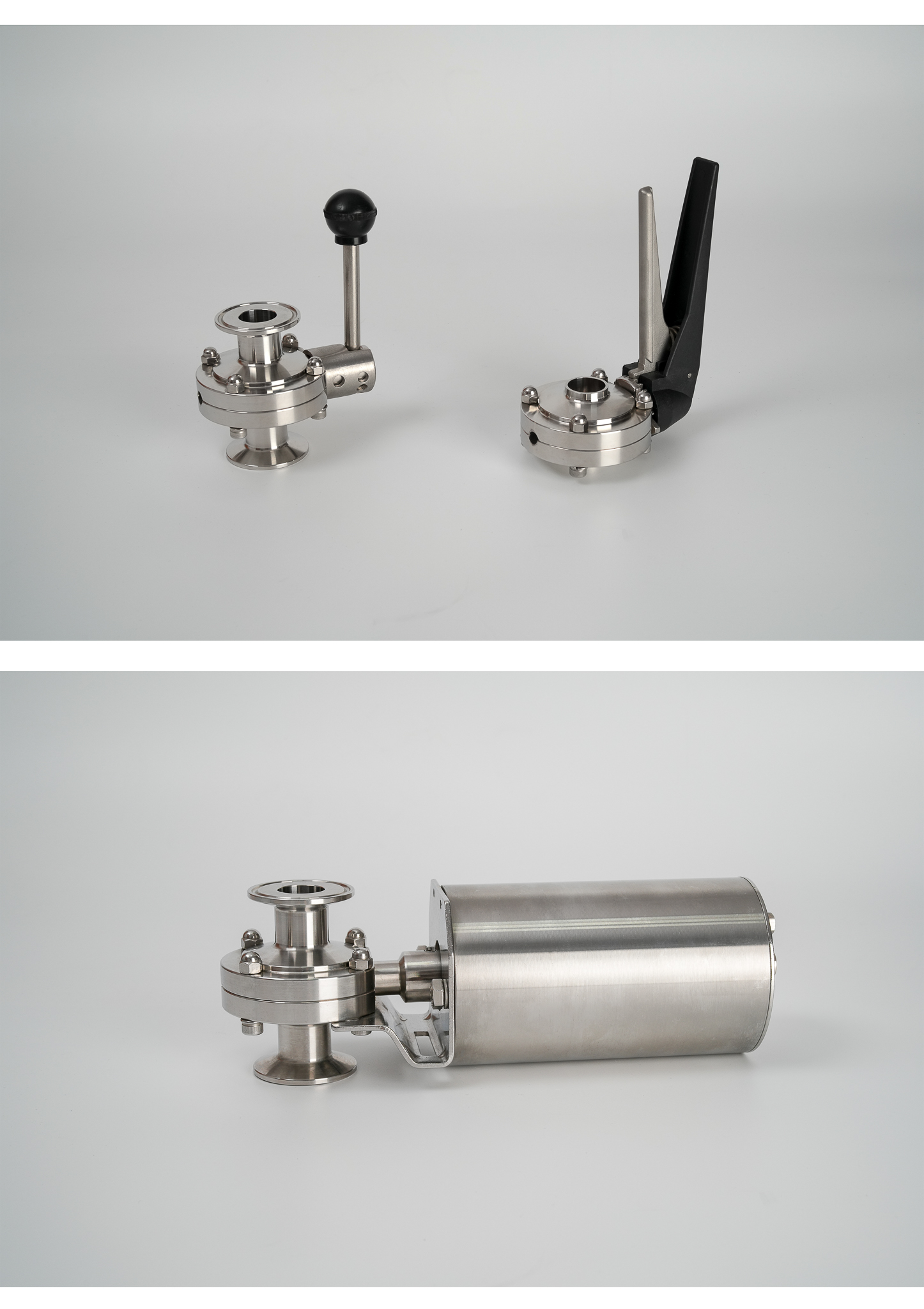 Inox/Stainless Steel Sanitary HYGIENIC BUTTERFLY VALVE with Tri clamp Ferrule/Weld/3A/IDF/RJT/BSM/DIN/SMS connections/ends - manufactured by TECH CONTROL ENTERPRISE CO., LTD. TAIWAN
Product ID: 09
Economic selection and favored by professionals who concern the highest sanitary quality, strong corrison resistant, long sevice life, fast installation and easy throttling that a butterfly valve should be.
Compact design saving the operating space.
* Catalogs and drawings are available upon request.
Specifications:
Size: 1"~ 4"
Material: SS304, SS316, SS316L
Finish: 3A sanitary standard
Connection: Clamp End, Butt Weld, Bevel Seat, IDF Male End, and other connections are available
Replacement seals: Silicone, EPDM, VITON
Type: Handle or Air-Actuated are available

Micro Switch assembles are available for the Air-Actuated style to indicate the valve stem seat or disc position.

Pressure:

Up to 140 PSI at 203'F (95'C).
We test it for security up to 200 PSI.
Features:
Economy & Practical Design

Easy installation
Easy throttling
4 (Pull-Handle) or 12 (Press-Handle) disc position available

Material Controlled & Machined Precisely

Seat wear and distortion minimized
High corrosion resistant
Long service life

Safety Stock System

Complete tested
Well packaged
Fast delivered

Repair service.
Order Information:
Minimum Order: 5 pcs
Buyer's Label Offered
FOB: TAIWAN
Contact Detail
| | |
| --- | --- |
| CEO: | Mr. Chung, Chin-Ying |
| Contact: | Manager Ms. Vickey Chung or Assistant Mr. Vincent Chen |
| Address: | No.24, Tsang Hou St., BanQiao Dist., New Taipei City 22055, TAIWAN (Headquarters) |
| TEL: | 886-2-29685577 / 29675553 |
| FAX: | 886-2-29675545 / 29689740 |
| Email: | techcontrol@seed.net.tw |
| URL: | http://www.tech-control-tw.com |
| ZIP: | 22055 |