Product
3A/IDF Stainless Steel SANITARY HYGIENIC TUBE ASTM A270, TUBINGS, inox stainless steel sanitary hygienic tube fittings - 3A, IDF, 4M, 6M, Seamless, Bead Removed ... 食品/飲料/啤酒/釀造/牛乳/製藥/生技/食品飲料機械整廠規劃整廠設備廠務衛生配管工程用管件 食品衛生級 不鏽鋼管, 無縫管, 除焊道管, 內拋光, 外拋光, 內外拋光...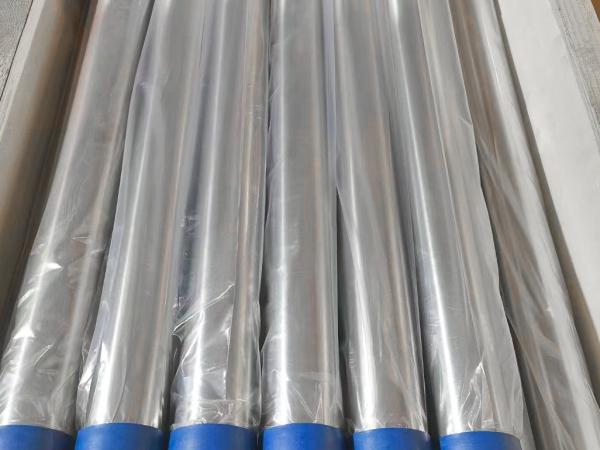 Stainless Steel Sanitary Hygienic Tube
Product ID: 17
Tech Control, no doubt, is recognized as the pioneer with its leading technology on tube polishing.
We keep the wall thickness of tubes to be the same from end to end, and their ID / OD polished to meet the strictest sanitary, food and pharmaceutical standards.
Materials can be selected from 304, 316 or 316L, "Seamless" or " Not Seamless " are available.
Samples and product catalogs are also available upon request.
Specifications:
Size: 1/2"~ 6"
Lenghth: 4M or 6M
Material: SS304, SS316L
Specification: 3A, IDF
Features:
Precesion engineered to ensure wall thickness the same from end to end and to be easy welded.
Quality controlled and fine polished ensure high corrosion resistant and sanitary requirements.
Totally inspected and well packaged before delivery.
Different polish/finish combinations and samples are available upon request.
See more complete detail
| Tube Specification | Size(inch) | OD(mm) | Wall Thickness (mm) |
| --- | --- | --- | --- |
| 3A | 1" | 25.4 | 1.65 |
| 3A | 1.5" | 38.1 | 1.65 |
| 3A | 2" | 50.8 | 1.65 |
| 3A | 2.5" | 63.5 | 1.65 |
| 3A | 3" | 76.2 | 1.65 |
| 3A | 4" | 101.6 | 2.1 |
| IDF | 1" | 25.4 | 1.2 |
| IDF | 1.5" | 38.1 | 1.2 |
| IDF | 2" | 50.8 | 1.5 |
| IDF | 2.5" | 63.5 | 2.0 |
| IDF | 3" | 76.2 | 2.0 |
| IDF | 4" | 101.6 | 2.0 |
Order Information:
Minimum Order: Negotiable
OEM/ODM Product, Buyer's Label Offered
FOB: TAIWAN
Contact Detail
| | |
| --- | --- |
| CEO: | Mr. Chung, Chin-Ying |
| Contact: | Manager Ms. Vickey Chung or Assistant Mr. Vincent Chen |
| Address: | No.24, Tsang Hou St., BanQiao Dist., New Taipei City 22055, TAIWAN (Headquarters) |
| TEL: | 886-2-29685577 / 29675553 |
| FAX: | 886-2-29675545 / 29689740 |
| Email: | techcontrol@seed.net.tw |
| URL: | http://www.tech-control-tw.com |
| ZIP: | 22055 |