Product
TUBE HANGER, TUBE SUPPORT, PIPE HAGER, PIPE SUPPORT, inox stainless steel sanitary hygienic tube fittings 食品/飲料/啤酒/釀造/製酒/牛乳/生技/製藥/化妝品/化工/淨水處理/個人照護/車輛/電子/半導體/食品飲料機械整廠規劃整廠設備廠務衛生配管工程用管件 食品衛生級 管夾, 管支架 ...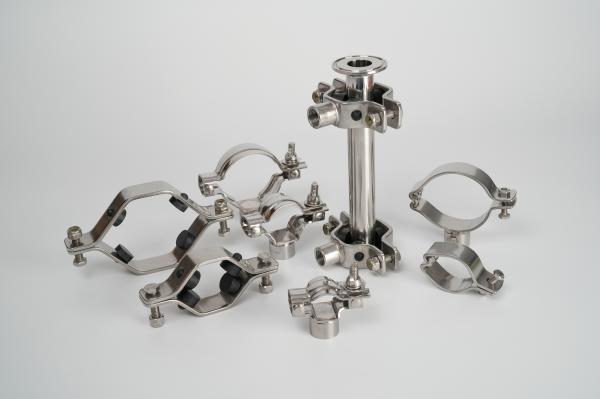 Inox/Stainless Steel SANITARY HYGIENIC TUBE HANGER, TUBE SUPPORT, PIPE HAGER, PIPE SUPPORT- manufactured by TECH CONTROL ENTERPRISE CO., LTD. TAIWAN
Product ID: 03
The ideal, strong, and practical design of these clamps, let processors easily and efficiently install / dismantle the tube fittings and components to clean / maintain / preserve on regular routines or modify the piping system anytime.
All clamps manufactured by Tech Control, are precisely engineered with accurate dimensions to ensure coupling with the fittings and gaskets tightly to prevent from leakage, product catalogs are available upon request.
Specifications:
Size: 1/2"~ 4"
Material: SS304
Specification: 3A
Features:
Precesion engineered to be easy installed/dismantled with Leak-Tight performance and long service life.
Quality controlled and fine polished ensure high corrosion resistant.
Totally inspected and well packaged before delivery.
Samples are available upon request.
Order Information:
Minimum Order: Negotiable
Buyer's Label Offered
FOB: TAIWAN
Contact Detail
| | |
| --- | --- |
| CEO: | Mr. Chung, Chin-Ying |
| Contact: | Manager Ms. Vickey Chung or Assistant Mr. Vincent Chen |
| Address: | No.24, Tsang Hou St., BanQiao Dist., New Taipei City 22055, TAIWAN (Headquarters) |
| TEL: | 886-2-29685577 / 29675553 |
| FAX: | 886-2-29675545 / 29689740 |
| Email: | techcontrol@seed.net.tw |
| URL: | http://www.tech-control-tw.com |
| ZIP: | 22055 |