Product
3A/IDF/tri-clamp/weld ELBOW, BEND, TEE, CROSS, Concentric REDUCER, Eccentric REDUCER, inox stainless steel sanitary hygienic tube fittings - 3A, IDF, Tri Clamp End, Butt Weld End, Long, Short, 45° elbow bend, 90° elbow bend ... 食品/飲料/啤酒/釀造/製酒/牛乳/生技/製藥/化妝品/化工/淨水處理/個人照護/車輛/電子/半導體/食品飲料機械整廠規劃整廠設備廠務衛生配管工程用管件 食品衛生級 彎頭, 彎管, 三通, 十字通, 大小頭, 漸縮管 ...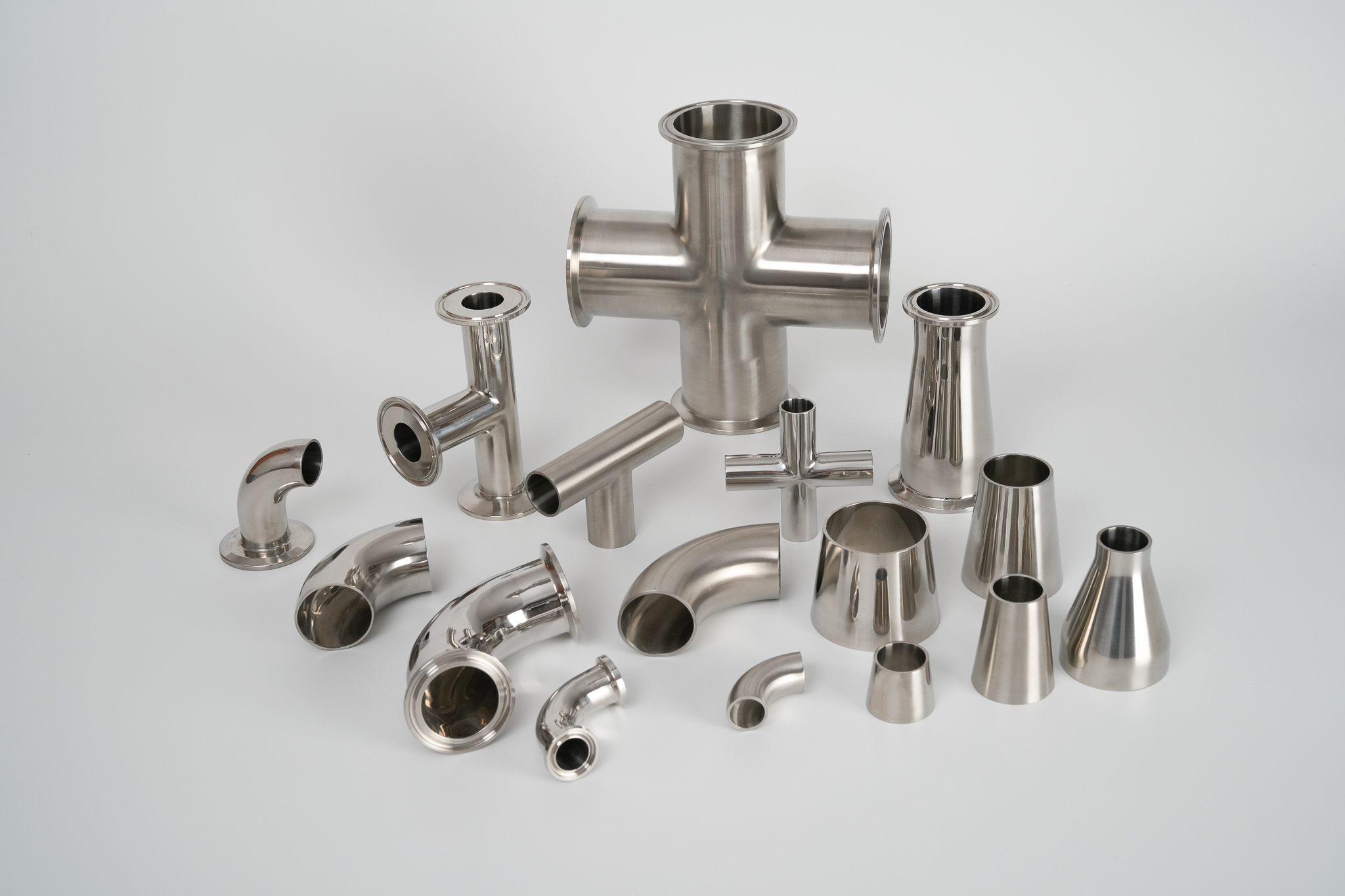 Inox/Stainless Steel Sanitary HYGIENIC TUBE FITTINGS 3A / IDF ELBOW BEND TEE CROSS REDUCER with TRI CLAMP/WELD Connections - manufactured by TECH CONTROL ENTERPRISE CO., LTD. TAIWAN
Product ID: 14
Like our other tube fittings, elbow, tee, cross & reducer are with qualified machining process & finish-polished. Superior weldability and high corrision resistance.
We strongly recommend you to involve them to your pipeline service.
* Catalogs and drawings are available upon request.
Specifications:
Size:

3A (Unit : mm)

1/2" (OD=12.7, t=1.65)

3/4" (OD=19.05, t=1.65)

1" (OD=25.4, t=1.65)

1.5" (OD=38.1, t=1.65)

2" (OD=50.8, t=1.65)

2.5" (OD=63.5, t=1.65)

3" (OD=76.2, t=1.65)

4" (OD=101.6, t=2.1)

6" (OD=152.4, t=2.8)

IDF (Unit : mm)

1" (OD=25.4, t=1.2)

1" (OD=25.4, t=1.2)

1.5" (OD=38.1, t=1.2)

2" (OD=50.8, t=1.5)

2.5" (OD=63.5, t=2.0)

3" (OD=76.2, t=2.0)

3.5" (OD=89.1, t=2.0)

4" (OD=101.6, t=2.0)

Material: SS304, SS316, SS316L

Specification: 3A, IDF
Features:
Material Controlled & Machined Precisely.

Easily welded
Quickly fit up
High corrosion resistant
Long service life

Safety Stock System.

Well packaged
Fast delivered

Surface Finish
Order Information:
Minimum Order: 50 pcs
Buyer's Label Offered
FOB: TAIWAN
Contact Detail
| | |
| --- | --- |
| CEO: | Mr. Chung, Chin-Ying |
| Contact: | Manager Ms. Vickey Chung or Assistant Mr. Vincent Chen |
| Address: | No.24, Tsang Hou St., BanQiao Dist., New Taipei City 22055, TAIWAN (Headquarters) |
| TEL: | 886-2-29685577 / 29675553 |
| FAX: | 886-2-29675545 / 29689740 |
| Email: | techcontrol@seed.net.tw |
| URL: | http://www.tech-control-tw.com |
| ZIP: | 22055 |